National Police Officers Roll of Honour and Remembrance
In Memory of British Police Officers who Lost their Lives in the Line of Duty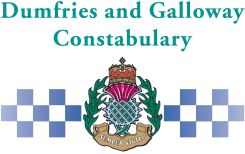 DUMFRIES & GALLOWAY CONSTABULARY
and the former constituent force of Dumfries Burgh police
---
LEST WE FORGET
---
Dumfries Burgh police
---
PC Robert Martin Broadfoot
Died 18 October 1913, aged 30
Collapsed and died of heart failure while on his beat late at night.
---
Dumfries and Galloway Constabulary
---
Sgt William Gibson
Died 22 May 1951, aged 44
Shot dead when he approached an armed suspect in the street.
Posthumously awarded the King's Commendation for Brave Conduct.
---
Insp John Rutherford Watson
Died 13 February 1967, aged 50
Collapsed and died while on supervisory patrol in Thornhill.
---
Cadet Michael John Hall
Died 7 November 1978, aged 16
WPC Isabella Janet G. Harris
Died 7 November 1978, aged 27
PC Gerard Vincent Hogg
Died 7 November 1978, aged 28
Killed with others when their traffic patrol car collided with two lorries.
---
PC Kenneth Andrew Brodie
Died 8 January 1997, aged 34
Killed in a multiple road traffic accident while on mobile patrol near Mennock.
---
LEST WE FORGET
---